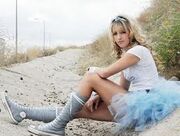 Rydel Lynch was born on August 9, 1993 and her full name is Rydel Mary Lynch. She is the second of the five kids born to Stormie and Mark Lynch, and is the only girl. Her innocence and sweet heart are her signature trademarks, but she is also an amazing singer, dancer, and actress. She is a unique blend of sass, beauty, and a little Tom Boy style mixed in there. As her career, she can be seen in a recent 'Sears' commercial which features Vanessa Hudgens, she has the lead in a Bollywood Dance video, Rydel can also be seen dancing with Riker, her older brother, in the movie "Sunday School Musical", and on several commercials and dance DVD's she can also be seen. She may also be spotted dancing with Rocky, her younger brother, in the hit dance show, "So You Think You Can Dance". Rydel can also be spotted in the new Nick Cannon movie, "School Girls". Rydel is one of the members of R5, a popular band, where she plays keyboard, tambourine, and provides vocals. 
Ad blocker interference detected!
Wikia is a free-to-use site that makes money from advertising. We have a modified experience for viewers using ad blockers

Wikia is not accessible if you've made further modifications. Remove the custom ad blocker rule(s) and the page will load as expected.