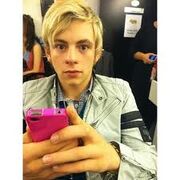 Ross Shor Lynch,born 29th December, 1995, is an American songwriter/singer, actor and instrumentalist, singing and performing in his family band R5, and portrays Austin Moon in the new Disney Channel show Austin & Ally, where he sings frequently as its the requirement of his character. Ross was born in Littleton, Colorado, the fourth of five kids to Mark and Stormie Lynch. He and his family moved to California in 2007 to allow his brother Riker pursue a career as an entertainer. After the move, his brother Rocky taught himself how to play the guitar, and taught Ross how to play and Riker to play bass while their sister Rydel began to play the piano. They soon made the band R5 with a friend they met at a dance studio, Ellington (Ratliff), who plays the drums. When he was three or four years old, he could often be found in a deep conversation with an adult, usually a complete stranger, that was captivated by his smile and energy and his unique ability to communicate with anyone. Ross plays rhythm guitar with R5 and has co-written several original songs with the band.
Ad blocker interference detected!
Wikia is a free-to-use site that makes money from advertising. We have a modified experience for viewers using ad blockers

Wikia is not accessible if you've made further modifications. Remove the custom ad blocker rule(s) and the page will load as expected.