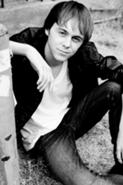 "Ellington Ratliff is an American actor, singer, and musician part of the band R5.
Bio
Ratliff's real first name is Ellington, but his band mates quickly nominated him to be known as "Ratliff" so he could complete the band and still have an "R" name, thus keeping the R5 name intact. Ratliff is definitely the relaxed, comic relief of the band, never getting too worked up about anything, which is a great contributing factor to the bands success. But the real benefit of having Ratliff around is his amazing drum skills. R5 was not really a band until he showed up and then it was like magic, with everything coming together with the sound of those drums. Ellington is also an impressive SAG actor, with a long resume of TV and movie credits and has also been seen dancing with the other members of R5 on many shows, like So You Think You Can Dance."
Source:
'I got all of the information from http://r5rocks.wikia.com/wiki/Ellington_Ratliff I do not mean to copyright. I cannot stress enough, ALL CREDITS GO TO 'http://r5rocks.wikia.com/wiki/Ellington_Ratliff
Ad blocker interference detected!
Wikia is a free-to-use site that makes money from advertising. We have a modified experience for viewers using ad blockers

Wikia is not accessible if you've made further modifications. Remove the custom ad blocker rule(s) and the page will load as expected.